This winter Vibe Fitness in Bath are running a little challenge to ride a 10km TT on one of their two Wattbikes. The so called 'Best of the Best' will receive a prize for the quickest time over 10km. 
Simon from Vibe Fitness contacted the club to generate some interest for this challenge but also to bring in a few cycling punters. And why not? Being somebody who likes a good ol' 10 mile TT or two this challenge got my legs twitching. I went down to their setup in Widcombe to check things out and see what could be done to get a few club members down there to put some times on the leaderboard. In fact, it didn't take much. Just a few tweets and we were away.
A persistent virus meant I left it a few weeks until booking my slot but in the meantime; Tom (14mins 09secs), Becci (tbc) and Jason (14mins 13secs) all went down a gave it a shot. Now it was my turn!
I was confident I'd be in the same ballpark as Jason and Tom; out on the road we're all pretty evenly matched. This, however, is not a test of how well you can ride your bike in group but a measure of pure power output over a specific distance. Moreover it's you vs. the Wattbike and it's brutal!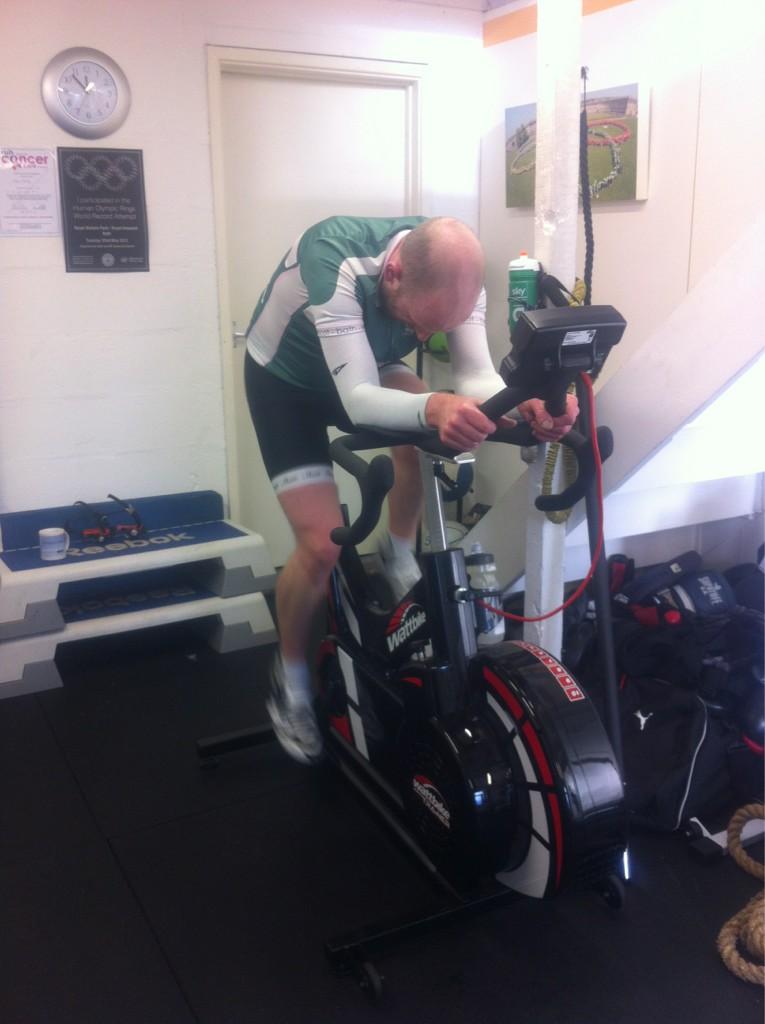 So how did I do? Well, after a lung busting effort it was a pretty standard 14mins 21secs which equates to 275 watts average output or a virtual 26mph. Can you tell I'm a little disappointed? The thing is I know I can do better; I've done similar tests before and ridden close to 300 watts for 30 mins and then ridden 330+ watts for approx 10 mins until exhaustion. My biggest failing was going out too hard. I rode in excess of 300 watts for the first five or so minutes but then struggled to maintain it, backed off for a few minutes and then hit the last 3 minutes as hard as I could. Even in such a short challenge you have to measure your effort.
I can equate the whole experience to the first time I did a 10 mile TT. I knew I could improve and I kept going until I reached a time which reflects the kind of riding/training I can manage and equipment I have to do the job.
My target will be to get under 14mins. I'll be back for more in 2013. 
Check out Jason's experience here, similar to mine just quicker!
Vibe Fitness' Wattbike Challenge is running all through the winter until the end of March 2013. All you need to do is get in contact with them and book a slot. It's that easy. The hard work begins after that………
http://vc-walcot.co.uk/wp-content/uploads/2015/03/logo.jpg
0
0
Velo Club Walcot
http://vc-walcot.co.uk/wp-content/uploads/2015/03/logo.jpg
Velo Club Walcot
2012-12-19 15:07:00
2012-12-19 15:07:00
Watt Bike? 10km Challenge – Laurie and Jason Go Through the Pain Barrier!